Blues Power Live - Elles Bailey & More
Dingwalls, Camden, London.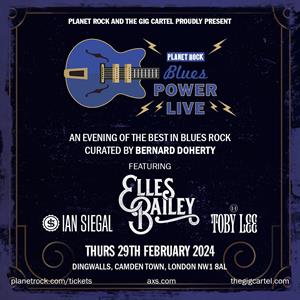 Under 14s must be accompanied by an adult. We cannot issue refunds to under 14s who are not accompanied by an adult.
More information about Blues Power Live - Elles Bailey & More tickets
Planet Rock Radio, the UK's number one Rock and Blues radio station brings you a new live event in conjunction with The Gig Cartel. The event is called 'Blues Power LIVE' aptly named after the radio stations flagship Blues show, and is hosted and curated by none other than the Blues maestro himself; Bernard Doherty.
This, the third show features the top touring acts from the world of contemporary blues rock, old school blues, and future breakthrough talent / the most hotly tipped, up and coming acts in the genre.
Elles Bailey
Elles Bailey, the smokey voiced, human dynamo who has powered her way to the forefront of the British blues and roots scene in recent years, unveiled her eagerly-awaited third album 'Shining in the Half Light' in the spring of 2022. Crammed with vibrant originals brought to life with her A-list band, it's another significant step forward in a career already feted with awards & acclaim generated by her two previous studio sets Wildfire and Road I Call Home.
Shining in the half light debuted at the top of her native genre charts: #1 in the Official Blues charts; #2 in the Official Americana charts; and #4 in the Official Independent Charts. In a landmark breakthrough for an independent artist, 'Shining In The Half Light' also appeared on the RADAR of the UK Charts, reaching #11 in the mid-week album charts, and finishing just a handful of sales away from the UK's Top 40 at #42. For a fully independent artist, without the clout of a major label, it is one hell of an achievement. What's more, Elles has won Artist and Live Act of the Year at the prestigious UK Americana Awards 2023 at a star studded ceremony at The Hackney Empire in late Jan and has picked up a hat trick of awards at The UK Blues Awards including Artist, Vocalist and Album of the year for Shining in the Half light.
Recorded in those 'silent' days during the 2020 lockdowns, all four singles have garnered support from BBC Radio Two and Planet Rock. Cheats & Liars, Sunshine City, The Game & Stones were all added to the Planet Rock A list playlist, with 15 weeks collectively at the top spot on the UK Airplay Charts. The title track 'Shining in the Half light' received its first play, along with an interview with Cerys Matthews on the Radio 2 Blues Show. And it not just about getting spins on the radio for this multi talented artist- on the back of all her radio success with Planet Rock she was offered a weekly show and you can now hear Elles every Saturday at Midday on Planet Rock Radio, sharing her love of Rock with a sprinkling of Americana.
This self-confessed 'rolling stone' continues to do everything she can to call the road her home. 2022 saw Elles play multiple high profile headline festival slots, taking to the high seas to play the Joe Bonasmassa - Keeping the Blues Alive at Sea Cruise, opening for Blues Legend Walter Trout and joining Don McLean on his 50th anniversary American Pie UK tour. In 2023 Elles finally took her chart topping album on the road with a hugely successful UK headline tour coinciding with a deluxe release of the album. Early in 2023 she headlined festivals like Winters End alongside Kris Barras Band and the Von Hertzon Brothers and headed to Germany to open for roots rockers Kitty, Daisy & Lewis in April 2023. Summer saw her play slots alongside Bonnie Raitt at Black Deer Festival. Main stage at the brand new Maid of Stone fest alongside Airborne, headlining festivals into across the UK and into Europe and opening for Jools Holland at Kew The Music. She also headed to Nashville to play Americana Fest in September.
2024 is looking very promising for this far touring chanteuse - there's a new EP dropping early 2024, rumours of a live album and a new studio album. Plus some very exciting touring opportunities including sharing the stage with Jools Holland again.
Miss Bailey really does call the road home & when she arrives near you, don't think twice, get there. A great evening and a long musical friendship will be waiting.
After announcing themselves with debut single 'Tell Me How It Feels' in May 2021, it was less than 24 hours before the track toppled Noel Gallagher's High Flying Birds to take the #1 spot in the iTunes Rock Single Chart. Their 4-track eponymous E.P. quickly followed, also claiming the #1 spot on both the iTunes Rock Album Chart and Amazon Rock Best Sellers Chart. The debut album 'January Came Close' was released on October 28th 2022 and within 24 hours had also reached #1, this time on UK's Amazon Album Chart - besting Taylor Swift's new album in the process.
In November, the band were tapped by guitar icon Peter Frampton, joining him on his Farewell UK tour and playing to capacity crowds including London's prized Royal Albert Hall.
They may have taken the scenic route but Cardinal Black are finally here, and they've got plenty of stories to tell.
Ian Siegal
When Ian Siegal was nominated for a Blues Music Award in the contemporary album category, it was the first time ever for a British artist in this category. The Blues Music Awards – made annually in Memphis TN – are the blues Grammys. This followed a series of awards in the UK, and the accolades continue. Following his most recent CD – Candy Store Kid, recorded in the hill country of North Mississippi – Classic Rock magazine described Siegal as a "national treasure."
It has been said that had Siegal been around in the sixties he would today be accorded the same reverence as artists such as Van Morrison and Joe Cocker. Instead, he is a child of the seventies who dropped out of art college in the late eighties to go busking in Germany. From the streets of Berlin Siegal progressed to clubs around Nottingham, then to London and ultimately to major stages around Europe.
Siegal's forte is playing to an audience. He takes command of the stage in a way very few artists alive today can match. Sweat, humour, passionate guitar playing and a soul-infused voice big enough to fell trees have combined to win him an ever-growing following of fans.
Toby Lee
Dubbed a future superstar of the blues by Joe Bonamassa, 17-year-old Toby Lee boasts an impressive musical CV.
Toby's journey started at just 4-years-old when his grandma bought him a yellow and green ukulele. This little instrument went everywhere with him, and he played it constantly – mainly tunes by Elvis and Buddy Holly.
When he was eight, he got his first electric guitar for Christmas while staying at a hotel in Cornwall. By chance, staying at the same hotel was Mick Box from Uriah Heep. Mick gave Toby some great advice and some picks and from that moment, Toby knew exactly what he wanted to do when he grew up!
Toby spent a year playing the role of Zack Mooneyham in the original Andrew Lloyd Webber West End production of School of Rock the Musical. He won an Olivier Award for "Outstanding Achievement in Music" with School of Rock. "It's a long way to the top if you wanna Rock n Roll" but Toby is definitely living the dream.
He has appeared on many TV shows around the world including TFI Friday twice, LittleBig Shots USA, Spain and the UK, Comic Relief, Michael McIntyre, The X Factor, Ant and Dec's Saturday Night Takeaway, Blue Peter and Tonight at the London Palladium where he performed with McFly.
He jammed with Ronnie Baker Brooks at the Blues Heaven Festival in Denmark and the video went viral with over 115 million views. Toby now has over 400 million views on social media.
Toby represented the UK at the 2018 International Blues Challenge in Memphis – later that year he was announced as the Young Blues Artist of the Year at the UK Blues Awards. He was also featured in a television documentary called Child Prodigies. In 2019, he was flown to Los Angeles to appear on the Ellen Degeneres Show, where he performed and was interviewed by Ellen.
Toby has shared the stage with a host of stars including Buddy Guy, Billy Gibbons, Peter Frampton, Slash, Lukas Nelson, Kenny Wayne Shepherd and has appeared alongside his hero, Joe Bonamassa at the Royal Albert Hall.
Toby has been a Gibson Artist since the age of ten and is endorsed by Blackstar Amplification and D'Addario Strings.