Riskee And The Ridicule
O2 Academy2 Islington, London.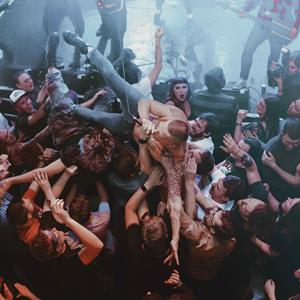 8+ only. 8s to 13s must be accompanied by an adult. No refunds will be given for incorrectly booked tickets.
More information about Riskee And The Ridicule tickets
Incendiary grime punk band Riskee & The Ridicule return with their new album, Platinum Statue, released on August 25th via Ring Of Fire Records. For more than a decade, the band has released music with a rich history of focused scathing attacks on world politics yet this time around they decided to look more inwardly. Concentrating on the broad influences that each of the five members (Scott Picking - Vocals, Jimbo Aglony - Guitar & Vocals, Jordan Mann - Guitar & Vocals, Ben Maz - Bass, Matt Verrell - Drums, keys & Vocals) bring to the band, they allow these to breathe and lend to an album full of collaboration and brotherhood. By letting their individual inputs dictate the music, Platinum Statue explodes at break-neck speed into an innovative force of an album that tackles mental health, how to cope and the UK music scene. The first taste of this was their caustic and brutal single "My Name", an anthem dug from the dirt of the underground, dedicated to the music industry and every snake within it. Elsewhere "How I Feel" is about carrying on a party way after the party has stopped - both literally and metaphorically - and the anxieties that come with the hangover of a good time but wanting to keep it going, for better or worse. "Giving Up" tackles those moments of hopelessness and addressing depression when it comes in its waves. Throughout the entire record there's an outburst of intricate guitars, breakdowns and relentless rhythm sections reaching new heights that all detonate with punk energy, cathartic hooks and sharp vocals.

Having released critically acclaimed albums Dawn Of The Dog, Blame Culture, Body Bag Your Scenet and touring extensively across the UK, Europe and America, the band is renowned for their relentless energy which is now made concrete on Platinum Statue. The dials are turned up all the way and everything Riskee & The Ridicule were previously known for reaches ferocious new energy levels. Platinum Statue was recorded, produced, mixed and mastered by Oz Craggs at Hidden Track Studios."
"A sound that belongs entirely to them, Riskee & The Ridicule step beyond this on their new album…it's emblematic of the feral potency at work on the full record." – Clash

"The band make the jump to serious contenders for the modern day punk crown." – Vive Le Rock

"Get on board now before they get huge, you can say you were part of something special." – Three Songs And Out

"This is not like other albums…anger runs through this stunning 12 songs like blood…something about it you cannot – or should not – ignore." – Maximum Volume Music

"This an album that 2019 desperately needs." – Original Rock

"An album that needs to be heard." – The Punk Site

"The album grabs you from the start and like a juggernaut, it will drive relentlessly, gathering pace as it takes you on a journey which will educate and hopefully inspire but ultimately invigorate." – Punk4rt