Robin Trower
The Robin, Bilston.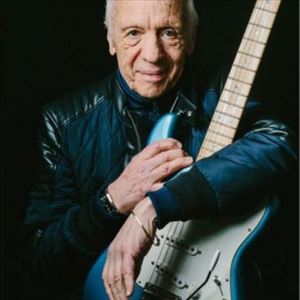 14+ only. 14s to 17s must be accompanied by an adult. No refunds will be given for incorrectly booked tickets.
More information about Robin Trower tickets
For Robin Trower, the next great song is always right there at his fingertips. For five decades, the iconic British bluesman has written the same way. The valves glow in his Marshall amplifier. Those fabled hands roam the neck of his Fender Stratocaster. Then the music starts to flow: raw and real, played with fire and skill, untainted by commercial aspirations, accompanied by lyrics that get to the guts of the matter. "The songs always come when I'm playing the guitar," explains Trower of his creative process. "Everything starts from there…"
So too began Trower's latest studio album, Coming Closer To The Day. It's rare to find a '60s legend still on trailblazing form in their eighth decade. But while Trower's peers recycle the old hits or retreat from view, the 73-year-old guitarist finds himself in a golden late-bloom of creativity. In recent years, his solo output has been championed by both press and public, with the impact of 2014's Something's About To Change, 2016's Where You Are Going To and 2017's Time & Emotion setting up some of his best-attended US dates since he conquered that continent with Bridge Of Sighs in the mid-'70s. "I had two really excellent tours in '17 and '18," he reflects. "A really great turnout, great response from the crowd. It's been wonderful, really."
Even at this career pinnacle, Trower admits he "just can't stop". And with Coming Closer To The Day, his songcraft and soulful performances have never sounded more alive – even on an album whose title track acknowledges that life is short and time precious. "I'm saying that I'm nearer the end than the beginning," he explains. "But that doesn't scare me. Not at all. If I went tomorrow, I'd feel like I'd been blessed with being able to achieve an incredible amount as a musician."
Given his fascination with the US blues pioneers, it followed that Trower was ambivalent about the British boom of the mid-'60s. Yet he seized his opportunities throughout that decade, making his first mark in R&B hopefuls The Paramounts, then forging his reputation over a five-album tenure with Procol Harum. "
For Trower's long-standing fans, the main event is his solo career, which exploded in 1974 with Bridge Of Sighs: the gold-selling masterpiece whose highlights like Day Of The Eagle and Too Rolling Stoned paired his soul-drenched fretwork with the emotive vocals of the late James Dewar.
That wave of popularity carried Trower into a series of celebrated collaborations with Jack Bruce that began with B.L.T. (1981), and even saw him guesting on tracks for Bryan Ferry's acclaimed Taxi (1993). And while the record industry might have transformed beyond recognition since the millennium, Trower has lost not a spot of integrity on the march towards his modern solo albums.